Alternatives to Adobe Software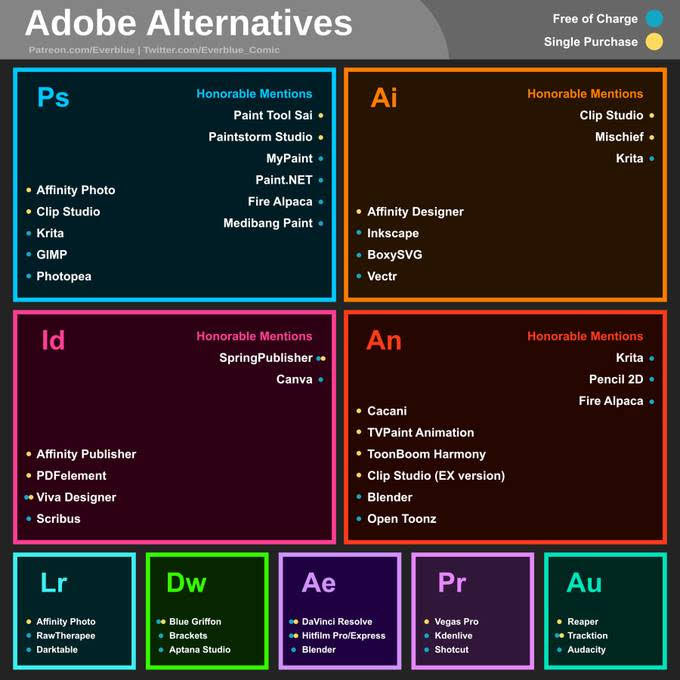 Adobe Tutorials
Terry White is a really good resource for Adobe learning, he has so many videos, many of which I really appreciate are overviews of each program, every time there's a new release or update. Here are some of his overviews for beginners:
Adobe actually has some really good tutorials and resources. They also put on a conference every year called MAX where experts around the world teach workshops for their programs, highly recommend perusing. Here are some of their playlists that have quick tutorials:
Screen Printing Tutorials
This class was the most helpful for me knowing nothing. I learned a ton about the nuances and all the variables.

A nice intro to the medium, though it glosses over a lot of issues that I ran into...but love her work and she's got some great DIY hacks and setups.

Love watching their videos! I learned how to pull and register (line up) my prints from just watching.

I also buy emulsion and any chemicals from Ryonet. They have eco-friendly stuff, since I'm working in my home and yard, I don't want to contaminate or harm myself in this process.

You can also find a lot of equipment (from Asia) and inks on amazon...but if you have a Blicks near you that's a great option as well. I purchased my screens second hand from students that had graduated and didn't need them anymore! (Craigslist also sometimes has some stuff too!)
Graphic Design
If you're interested in learning more about graphic design history:
CreativeLive
A free-while-streaming creative learning platform that I used after graduating to continue learning!

Sewing Tutorials
Coming soon