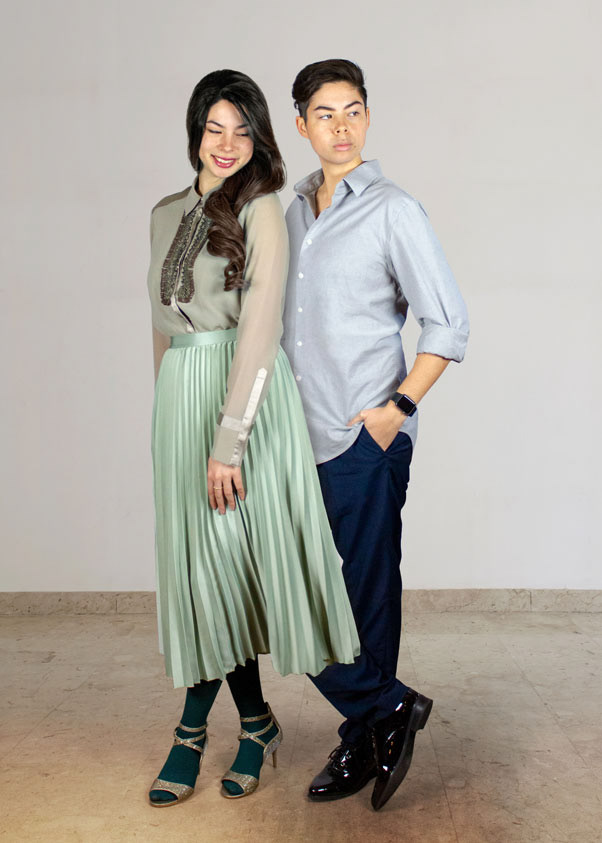 Dani Kwan hails from the suburbs of Southern California. Growing up with a mother who studied archaeology and worked in the aerospace industry alongside an aunt who is an avid bird-watcher and conservationist, much of Kwan's work is viewed through historical, sociological, and scientific lenses.
Having studied fashion design in high school, fine art in college, and working as a graphic designer, Kwan's artistic practice encompasses a diverse selection of media. Likewise, their interests are varied and many, however their work is tied together with the intent of educating others.
Kwan's long-standing research has been focused on the intersection of fashion and identity. Their work often includes surveys of our societal values regarding gender and sexuality, as well as expressions of their struggle with societal expectations as a multi-racial and non-binary person.
You can keep up with what their doing on Instagram
@danikwan
​​​​​​​
Exhibits/Events
Inconclusive: Exploring Identity and Vulnerability, Palm Gallery, Camarillo, CA

R/Evolutionary Screen Print Show, 643 Project Space, Ventura, CA
Pint Sized Show, Ventura Coast Brew Co., Ventura, CA
'RADuation' Art Program Graduation Ceremony, CSU Channel Islands
Career Connections Mentorship Night, CSU Channel Islands

CSU Channel Islands Alumni Show, Napa Gallery, Camarillo, CA
Fridge-Worthy, WAV Gallery, Ventura, CA
Deck The Halls, Madewest Brewery, Ventura, CA

The Ol' Switcharoo, 643 Project Space, Ventura, CA (in collaboration with Shawn Patterson)

The Birds!, Toki Ramen, Ventura, CA

Annual Student Art Show, CSU Channel Islands, Camarillo, CA
Gender Cues: Femininity and Masculinity in Art, Palm Gallery, Camarillo, CA
Gallery Connect - Online Student Gallery, art.csuci.edu
423: Design Thesis Exhibition, Palm Gallery, Camarillo, CA
Minimallennium & Conceptual: Digital Illustration, Palm Gallery, Camarillo, CA

Greetings from Paris and Florence, Palm Gallery, Camarillo, CA
Study Abroad Student Show, Paris-American Academy, Paris, France
Education
[In-Progress] Masters in Fine Arts, University of California Santa Barbara, Santa Barbara, CA
Bachelor of Arts cum laude, Studio art major, emphasis in graphic design with a certificate in digital media, California State University Channel Islands, Camarillo, CA
Paris-American Academy (Study Abroad Program), Paris, France
Otis College of Art and Design (Summer of Art Program), Los Angeles, CA
Academic Achievements
Art Program Honors award of the 2013 Graduating Class, CSU Channel Islands
First place award in Motion Graphics, Film & Animation Screening, CSU Channel Islands
Third place award in Web Design, Interactive Media Awards, CSU Fullerton
Certificate of Excellence in Graphic Design, Annual Student Art Show, CSU Channel Islands
First place award in Digital Illustration, Annual Student Art Show, CSU Channel Islands
Certificate of Excellence in Digital Illustration, Annual Student Art Show, CSU Channel Islands
Honorable mention for Illustration, Otis College of Art and Design
First place award and scholarship in Fashion Design, The Art Institute of California - Los Angeles
Marketing Graphic Designer, Sideshow Collectibles, Newbury Park, CA
Graphic Designer for Student Affairs, CSU Channel Islands, Camarillo, CA
In-House Graphic Designer, PlanetArt Marketing Department of Avanquest, USA, Calabasas, CA
In-House Graphic and Web Designer, BraveHeart Women, LLC, Ventura, CA
Freelance Graphic Designer, Sunsets, Inc., Harbor City, CA
Commissioned Work
Marketing materials for art exhibit, Below the Surface: An Exploration of Process, CSU Channel Islands, Camarillo, CA
Children's book illustrations, Brigette Najarian, Los Angeles, CA
Marketing materials for Honey Bee Wellness, Thousand Oaks, CA
Logo design for Warrior Ideal, Scot King, Thousand Oaks, CA
Doll design for Sideshow Doll, Sideshow Collectibles, Newbury Park, CA
Logo design for Sideshow Doll, Sideshow Collectibles, Newbury Park, CA
Illustrated short story, Jenna Cormier, Los Angeles, CA
Portrait illustrations, Sideshow Collectibles, Newbury Park, CA
Marketing materials for Honey Bee Kitchen, Thousand Oaks, CA
Screen-printed shirts for Honey Bee Kitchen, Thousand Oaks, CA
Illustrated wedding invitations, Melissa Emmons, Thousand Oaks, CA
Illustration work for Sideshow Doll, Sideshow Collectibles, Newbury Park, CA
Motion graphics video for InQ, a spoken word poet (in collaboration with Eamon Stewart), Sideshow Collectibles, Newbury Park, CA
Digital artwork for screen-printed shirts, Motoko Kitazumi, Oxnard, CA
Web design and photography for Honey Bee Kitchen, Thousand Oaks, CA
Costume design for theater production: Motown, CSU Channel Islands, Camarillo, CA
Digital paintings printed on paper, Britney Summerville, Camarillo, CA
Logo design, Running Pig Furnishings, Ventura, CA
CD packaging for the World Jazz Project, Paul Murphy, Camarillo, CA
Exhibit poster design printed on paper, Aldo Figueroa, Inglewood, CA
Poster design for theater production: Damn Yankees, CSU Channel Islands, Camarillo, CA
Poster design for theater production: The CI Follies, CSU Channel Islands, Camarillo, CA
Costume design for theater production: The CI Follies, CSU Channel Islands, Camarillo, CA